By Betsi Moise
"And when you fast, do not look gloomy like the hypocrites, for they disfigure their faces that their fasting may be seen by others. Truly, I say to you, they have received their reward. But when you fast, anoint your head and wash your face that your fasting may not be seen by others but by your Father who is in secret. And your Father who sees in secret will reward you." Matthew 6:16-18
In all of us, there is a tendency, a desire to impress other. We want to feel important and look good in front of others. In our celebrity crazy culture, we enjoy a good show, a "ham"; Hamming-it-up has become a common phrase to describe someone who does what they can to gain public attention. A show-off. All efforts are to gain the recognition and adoration of the people around them—which is OK if you are an actor, but it has no place in our life of prayer and fasting.
Jesus does not want us to be "show-offs" when it comes to our prayer time with Him. He wants us to be truthful about our motives for prayer and fasting.
In fact, in this scripture from Matthew, Jesus uses a couple words here to describe the way these showoffs were fasting: "Gloomy" in the way they put on a sad face. They looked terrible – "disfigured", their faces covered with a mess of smeared ashes. They performed like actors, showing-off their tragic countenance so that people would notice them and recognize what wonderfully spiritual people they were.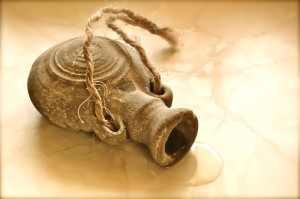 But Jesus says, they are missing the point of fasting and their only reward is to be noticed by a handful of people. That's all they got. Their fasting was not sincere worship; it was ostentatious. They were showoffs. By contrast, Jesus tells us to put oil on our heads and wash our faces (personal hygiene in today's world), so that it will not be obvious that you are fasting. It is between you and God: It's all about your motive. Why did you do it? For people? Or for God?
The reason it's so important to guard our motives in fasting is because the reason why we fast will determine how it effects our lives. Jesus urges us to fast in secret, so that our motives will be completely pure. The question is not, "Are you fasting? The important question is, "Why are you fasting?"
Meditate on the Scripture and consider:
Is God honored by your devotion?