OPEN THE EYES OF MY HEART, Nehemiah 8:8-12
By Betsi Moise
Have you ever felt God speaking to you so strongly that all you could do is listen and cry?
Busy schedules, deadlines, financial stress and the noise of the world can become stumbling blocks for listening to God when He calls to us. When God speaks to us, our spirits yearn to respond, but too often, we push this desire to the backs of our mind-after the other stuff is done…after we have done all the things the world expects us to do. We shut the door to God's invitation and our spirits mourn.
Friends, the time will never come when we have satisfied the world, for the appetite of our enemy is infinite. When we realize this, we weep. Our spirits will never be satisfied until we take the hand and heart that God is freely offering to us. When we do respond, our spirits leap for joy and our hearts are full. What bliss!
In Nehemiah, after years of turning deaf ears to God, the people of Israel gather at the Water Gate in Jerusalem (Living Water) to hear God's Word read by Ezra, the Scribe. Their spirits grieve because they have denied God and His Love. But they were encouraged to eat, drink and be joyful AFTER they heard the law of the Lord. It had been thoroughly explained by their teachers, and they wept in repentance.
And what do we hear God saying in all of this? Read the Bible, seek its meaning, open the eyes of your heart, repent, and then go and share your table with, tell them the Good News so they to may receive real joy.
As we consider how God has revealed himself to us, we are thankful for what we have already seen. On the other hand, we persistently pray for Him to open the eyes of hearts. We yearn for a deeper and broader knowledge of God and his grace.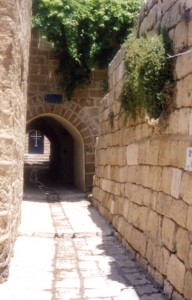 "So they read from the Book of the Law of God distinctly, faithfully amplifying and giving the sense so that [the people] understood the reading.
And Nehemiah, who was the governor, and Ezra the priest and scribe, and the Levites who taught the people said to all of them, This day is holy to the Lord your God; mourn not nor weep. For all the people wept when they heard the words of the Law.
Then [Ezra] told them, Go your way, eat the fat, drink the sweet drink, and send portions to him for whom nothing is prepared; for this day is holy to our Lord. And be not grieved and depressed, for the joy of the Lord is your strength and stronghold.
So the Levites quieted all the people, saying, Be still, for the day is holy. And do not be grieved and sad.
And all the people went their way to eat, drink, send portions, and make great rejoicing, for they had understood the words that were declared to them."     Nehemiah 8:8-12
QUESTIONS FOR FURTHER REFLECTION:
Can you remember times in your life when God has enlightened you? Even as you pray for deeper knowledge of God, do you thank God for how he has revealed himself to you?
Consider in what ways the joy of the Lord is your strength, and what brings about real joy for you.
Do you want to experience Joy? Go to church, read your Bible, learn all you can about it, repent of your sin, and then share your table and your time explaining to others what you have learned!
PRAYER:  Thank you, gracious God, for enlightening the eyes of my heart through your Spirit. Not that I see you perfectly, but you have helped me to see you in part. For this I thank you. Apart from your kindness in making yourself known to me, I would not know you. Yet, how good you have been to me in helping me to know you truly and intimately.
I surrender my pride. What I know, I know by Your Grace and through your Holy Spirit. In humility, I am thankful for the privilege of knowing YOU, and ask for even more grace so as to know you better.  Amen.