Seeking Jesus
Online Bible Study, Day 18 Scripture and Meditation by Betsi Moise
"And the two disciples heard him speak, and they followed Jesus. Then Jesus turned, and saw them following, and saith unto them, What seek ye? They said unto him, Rabbi, (which is to say, being interpreted, Master,) where dwellest thou? He saith unto them, Come and see. They came and saw where he dwelt, and abode with him that day: for it was about the tenth hour." John 1 37-39
When was the awakening in your soul?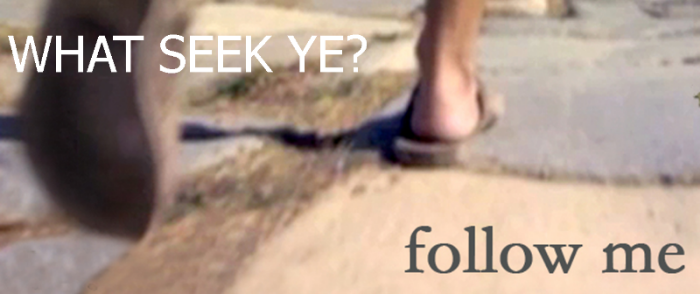 When we hear Jesus speak to our hearts, our strongest desire is to follow Him. The disciples heard him speak and took notice of His Words (Faith in Christ came by hearing). He reached their hearts, and they found their affections, and the desires of their souls, to be after Christ:
And whatever relationship there is between our souls and Christ, He is the one who initiates the dialogue. He asks, what seek ye? Our hearts, minds and souls call out: We seek You! Are you calling to me? This lonely, forgotten person – this wretched sinner? Oh, how we need the Living Water to wash over our broken lives and hopeless conditions! Can He take our guilt and sin away? We seek wholeness, joy, contentment. We seek to have a meaningful life; that our lives count. God's Grace answers the desires of our hearts through Jesus.
We want to know where Jesus is, where we can find Him. The disciples asked where he was dwelling – Come and See: He invites us come to Him without delay. What a gift to follow Jesus; how precious the time we spend with Him.
In our spiritual strengthening we seek after Jesus, to be like Him and be in relationship with Him. We come to Him as sinners, knowing that He alone has the power to save.
It is important to note that the disciples began to follow Him after they had heard Him. How do we bring the Good News of the Gospel to the "hearing" of those who do not yet know HIM? We need to be concerned for the spiritual welfare of those we meet in our day and seek to bring them to Him. It is by His Grace that they will hear "What Seek Ye"? And respond to His invitation to "Come and See".
May our lives reflect Christ's invitation to us all, Come and See!