Online Bible Study, Day 16 Scripture and Meditation
Thank you for taking the 20/20 challenge! It's NOT all about me! by Betsi Moise
"And if it seems evil to you to serve the Lord, choose for yourselves this day whom you will serve, whether the gods which your fathers served on the other side of the River, or the gods of the Amorites, in whose land you dwell; but as for me and my house, we will serve the Lord." Joshua 24:15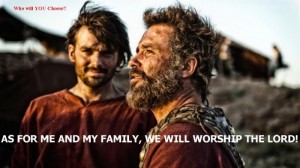 WHAT FAMILY DO YOU BELONG TO?
In the past 50 years or so, the strength of the family nucleus has been challenged by the pernicious lies of the world. "It's all about ME, "I'm # 1", "Truth is subjective", the Church is irrelevant" and "There is no God". We go our "own way", follow our "own path" and no one can tell us what to think and how to feel.
While independence and self-reliance has been a backbone to the development and success of the US; unleashed and unfocused, it becomes an undisciplined force against the family structure and the strength that comes with solid family values.
Such was the time of Joshua. Battling foes with all systems and manners of belief; fragmented family groups, and a lack of unity in faith and resolve.
His desire to unify the Israelites and carry out the will of God was the impetus behind his resolution. He knew how important community was, the sense of his family. As a leader, he understood his influence over his community, and as such, he could and did speak for his family, and the Israelites. He knew how he could influence those under his command.
For all who observed him, he wanted to be the example for the Israelites to follow after; just as we need to lead by example.
Joshua also knew that it is a CHOICE: In essence he said that we all have the choice –to opt for the impotent idols of the day over choosing the light of the True and living God.
His purpose was that his followers and children (as far as he could be an influence) would represent a constant faith for the Lord. Regardless of what other do. Not just by themselves, but knowing they that are bound for heaven, they must be willing to swim against the stream, not follow the crowd, but follow God and do the best they can do.
Thank you Lord for my family, my nuclear family and my extended family! As for me Lord – I choose YOU!