Who Do You Say that I Am? By Betsi Moise
Online Bible Study, Day 17 Scripture and Meditation
Thank you for taking the 20/20 challenge! Who is Jesus?

TURNING THE WORLD UPSIDE DOWN-ONE HEART AT A TIME
When Jesus came into the region of Caesarea Philippi, He asked His disciples, saying, "Who do men say that I, the Son of Man, am?" Matthew 16:13
Over the past few years, I have explored online a great many articles on Jesus from a variety of sources, including Crosswalk, Wycliffe, Jews for Jesus, the Truth Project, the Caspari Center, Chosen People, Martin Luther, Jews for Judaism, Darul Fatwah, Catholic World Ministries and Chabad Lubavitch.
I am deeply interested in what is being said and done in the name of Jesus, and I find it fascinating how deeply interested the whole world is in the subject.
Whether Actor, Artist, Atheist, Barber, Buddhist, Carpenter, Christian, Communist, Darwinist, Director, Doctor, Environmentalist, Fascist, Gardener, Hindu, Humanist, Idealist, Immigrant, Journalist, King, Librarian, Muslim, Nurse, Pacifist, Psychic, Politician, Queen, Singer, Soldier, Terrorist,Undertaker, Vegetarian, Waiter, Zoologist – everyone has something to say about the young man from Galilee who turned the world upside down.
They replied, "Some say John the Baptist; others say Elijah; and still others, Jeremiah or one of the prophets." Matthew 16:14
He is viewed as Philosopher, as Man, as God, as both or neither. We love Jesus or we love to hate Him. The tension between believer and non-believer is matched only by the acrimony between sects and divisions within religion. Jews condemn Jews who believe in Jesus. Catholics and Protestants condemn each other and Muslims condemn non-Muslims. Jesus is a philosopher and teacher according to the Qur'an, a bastard in a Talmudic tale, and the Savior of the World according to the New Testament. In all the conflicts and arguments, the most important question you will answer is:
"But what about you?" Jesus asked. "Who do you say I am?" Matthew 16:15
It goes without saying that the impact of Jesus' life and ministry on human history is remarkable. His truth claims compel us to seek Him. His influence is no less than supernatural. The interest in this Man is as intense today as it has ever been. The questions continue. In the name of Jesus, nations have been built up and broken down, hope has radiated through terrible circumstances and the life that is truly LIFE is experienced everyday by those who follow Him.
Simon Peter answered, "You are the Christ, the Son of the living God." Matthew 16:16
Are you ready for the One God has named as His Son?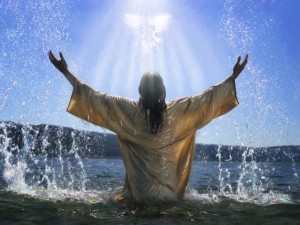 WILL YOU OPEN YOUR HEART AND LET HIM
TURN YOUR WORLD UPSIDE DOWN?