Thank you for taking the 20/20 challenge! We begin week two taking a look at a vision for the future by Betsi Moise
"For thus says the Lord: When seventy years are completed for Babylon, I will visit you, and I will fulfill to you my promise and bring you back to this place. For I know the plans I have for you, declares the Lord, plans for welfare and not for evil, to give you a future and a hope. Then you will call upon me and come and pray to me, and I will hear you. You will seek me and find me, when you seek me with all your heart. I will be found by you, declares the Lord, and I will restore your fortunes and gather you from all the nations and all the places where I have driven you, declares the Lord, and I will bring you back to the place from which I sent you into exile." -Jeremiah 29:10-14
A VISION FOR THE FUTURE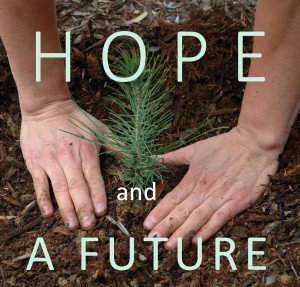 There is an old saying, origin unknown, that states "We plant trees for our Grandchildren". There are many ways to understand this saying, but the most important truth is that we hope for the future; a future that does not belong to us.
Jeremiah verse 11 is so often quoted that is has become cliché. Many people use that particular verse as an encouragement that God has wonderful plans for our individual lives, with blessings in store for us, even when we seem to be facing difficult circumstances.
But if we look at this verse in context, we begin to realize that blessings from God do not always pertain just to individuals. In fact, God speaks this verse after Israel had been taken into captivity to Babylon.
Take a look at how that paragraph starts. "When seventy years are completed for you in Babylon …" This means that even though the current generation is in captivity, and may not see the fruition of God's Promise, they are reassured that God's work in the world is going to carry on, and that he has plans for a hopeful future for all of His people.
ARE WE THERE YET? The concept that the blessings may not be ours, but our grandchildren is not a very popular concept for our society of immediacy – instant gratification and quick solutions may not be God's plan for His Kingdom. God's promises may be for the next generation.
The generation for which we plant trees.
These verses can remind us of some very important truths:
We are a part of something that is far bigger than ourselves. The work of God, His Purpose among believers and the Promise of His Kingdom are far bigger than any individual life span. We all play a part in God's promise for the future and hope for believers, whether our individual earthly lives appear "hopeful" or not.
Victory belongs to the Lord. Imagine how these verses in Jeremiah would have sounded to the Israelites in Babylon. God is declaring that, 'this is where I have brought you, this is where you are going to stay, seek to bless this city, play your part well, and know that a hopeful future is coming, even if it is not in your lifetime." The knowledge that we have victory over death, sin, and evil through His Son, Jesus is the hope we need to endure the difficult times of life.
We are channels for bringing God's blessing to the places He has put us. We are to bless when we are persecuted. We are to love our enemies. We must forgive. We are to seek the welfare of those less fortunate. We must live lives of sacrificial love. We are to make life better for those around us. We are commanded to make God's Kingdom a beautiful and tangible reality for those who do not know Him. By participating in those truths we give our world a taste of the hopeful future that God has for his creation.